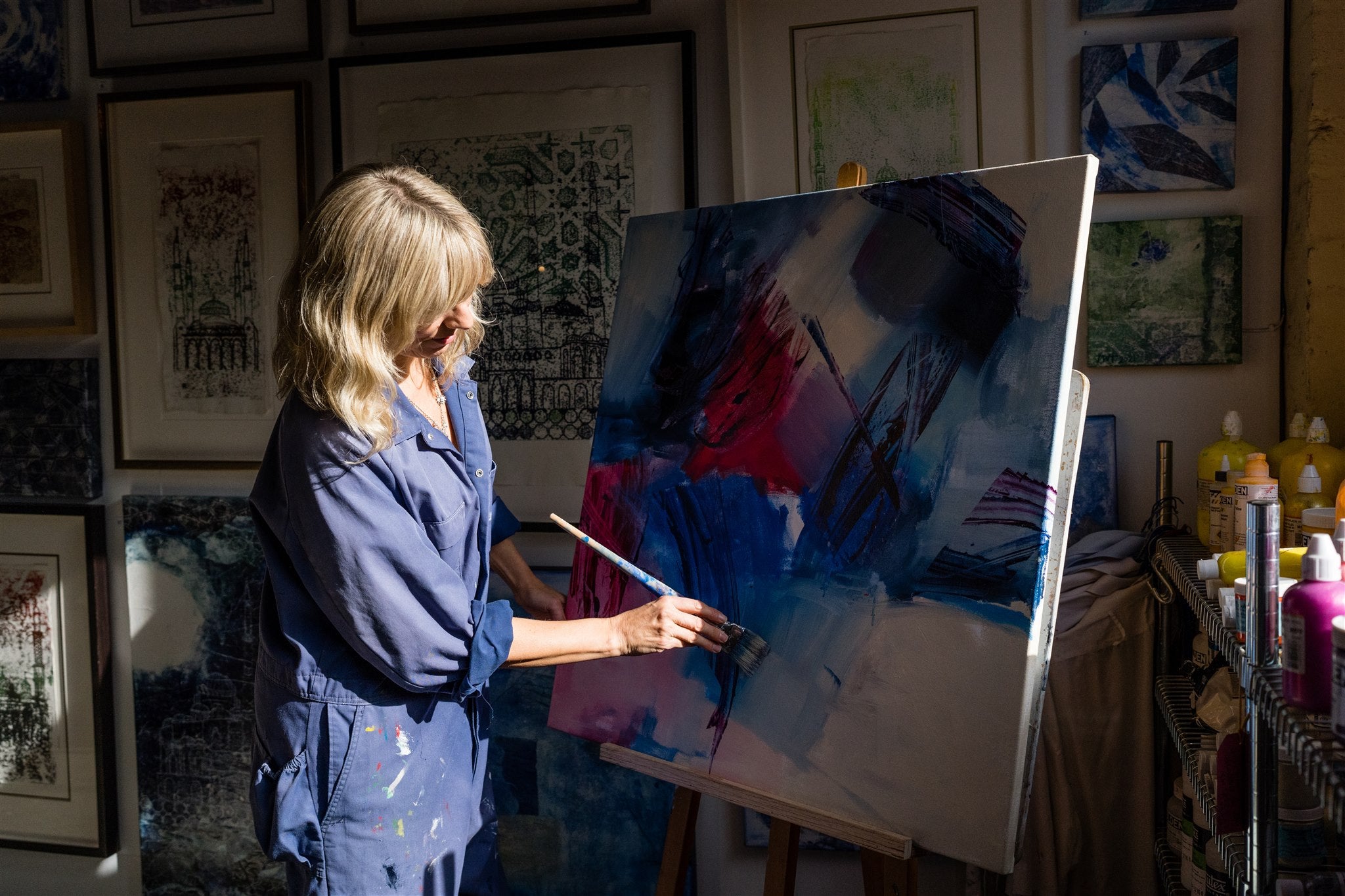 RELEASED 
Mulbury Gallery, 26 Advantage Road, Highett, Melbourne, Australia | January - February 2021
Group exhibition showcasing the talents of the four Resident Artists at Mulbury: Jessica Watson-Thorp. Michelle Sturrock, Valerie Melder and Jacqui McCook.
UNLOCKED 
Mulbury Gallery, 26 Advantage Road, Highett, Melbourne, Australia | November 2020
A gem hidden amongst the Art Precinct on Advantage Road, Mulbury has been showcasing local talent for 30 years. This collaborative show focusing on the achievements of three Artists and their creative practice over the 2020 Covid-19 Lockdown Period of eight months. 
INTERNATIONAL WOMEN'S DAY
Who Gallery, East Malvern, Melbourne, Australia | March 2020
Group exhibition celebrating and championing the achievements of female artists both in Australia and Globally. 
TAFAWUT: YEAR OF TOLERANCE
Showcase Gallery, Alserkal Avenue, Dubai, United Arab Emirates | January - March 2019
With a primary presentation of work by Jessica Watson-Thorp, the show revealed the important role that religious tolerance plays in the Islamic faith through pieces that are based in deep research and reveal a personal exploration into the mysticism and stories of Islam.
WEALTH OF A NATION
Novus Art Gallery, Abu Dhabi, United Arab Emirates | May - July 2018
Novus Art Gallery was founded in 2017 with the main goal of bringing high quality artworks by internationally renowned artists in the heart of the UAE's capital Abu Dhabi.  Inspired by the local art scene and its artists, Jessica's work has been featured alongside artists like Richard Orlinski, El Seed and Wissam Shawkat.
THE DIVING BELL & THE BUTTERFLY
Showcase Gallery, Alserkal Avenue, Dubai, United Arab Emirates | May - June 2018
A group show presented by Showcase Gallery and Mestaria. This show featured works by 11 artists whose work is united by the use of systematic techniques.  For the occasion of Ramadan, where everyday life becomes more structured around fasting hours and the sun's natural cycle, the inherent spirituality of Jessica's Masjid work was especially poignant during the Holy Month. 
MASJID
Sikka Art Fair, Al Fahidi Historical Neighborhood, Bur Dubai, United Arab Emirates | March 2016 | March 2017 | March 2018
SIKKA Art Fair, an initiative by Dubai Culture, featured a new collection of work by Jessica Watson-Thorp in Masjid.  The exhibition took place in the historic Al Fahidi Neighbourhood, at The Sheikh Mohammed Centre for Cultural Understanding; a non-profit organisation established to increase awareness and understanding between the various cultures of the UAE. In collaboration with the SMCCU, Jessica Watson-Thorp is dedicated to promoting cross cultural acceptance via art and the visual experience and this exhibition is a testament to their "Open Doors, Open Minds" ethos.
MODERN ARTISTS GALLERY, UNITED KINGDOM
Modern Artist Gallery, High St, Whitchurch-on-Thames, United Kingdom
Jessica is represented by this fresh and modern gallery situated in the heart of Henley in the United Kingdom.
SHEIKH MOHAMMED BIN RASHID CENTRE FOR CULTURAL UNDERSTANDING
House 26, Al Mussallah Road, Al Fahidi District, Bur Dubai, United Arab Emirates
Jessica called Arabia her home for the past thirteen years and is passionate about cross cultural exchange. She has an ongoing relationship with the Sheikh Mohammed Bin Rashid Centre for Cultural Understanding in the heart of old Dubai and showcased some of her Middle Eastern inspired pieces in their traditional Emirati courtyard. Please visit to experience true Emirati hospitality amidst an exhibition of JWT pieces.
LA SERRE, VIDA HOTEL, DUBAI
Vida Hotel, Mohammed Bin Rashid Boulevard, Downtown, Dubai, United Arab Emirates
A collaboration with La Serre, an arts destination in the heart of Downtown Dubai where Jessica was the second artist to win Artist in Residence as part of their Aspiring Artists Initiative.
AL SERKAL AVENUE ARTS DISTRICT, AL QUOZ, DUBAI
17th Street, Al Quoz, Dubai, United Arab Emirates
Jessica has exhibited widely across the city of Dubai, and has been involved in creative initiatives in the industrial compound of warehouses in the industrial district of Al Quoz, Dubai.

Watson-Thorp has recently shown at EAGLES NEST FINE ART GALLERY on the Great Ocean Road, SIKKA Dubai, MESTARIA GALLERY Dubai, and NOVUS GALLERY Abu Dhabi. She has hung alongside Zhuang Hong Yi, Richard Orlinski, Wissam Shakut, El Saeed, Noora Al Mazrouie, and master calligraphers Ahmad Moualla, Khaled Al Saai, and  Majid Al Youssef. 

Watson-Thorp's work has been featured on MTV, and in Women in Business, Gulf Daily News (Dubai), The National Newspaper (Abu Dhabi), Time Out Dubai, Arabian Woman and Magpie Magazine. She has donated work and time to numerous charities related to Southern Africa, and believes in the power of philanthropic art.